Local Restaurants & Eateries
Find this page at:
go.ncsu.edu/readext?361755
---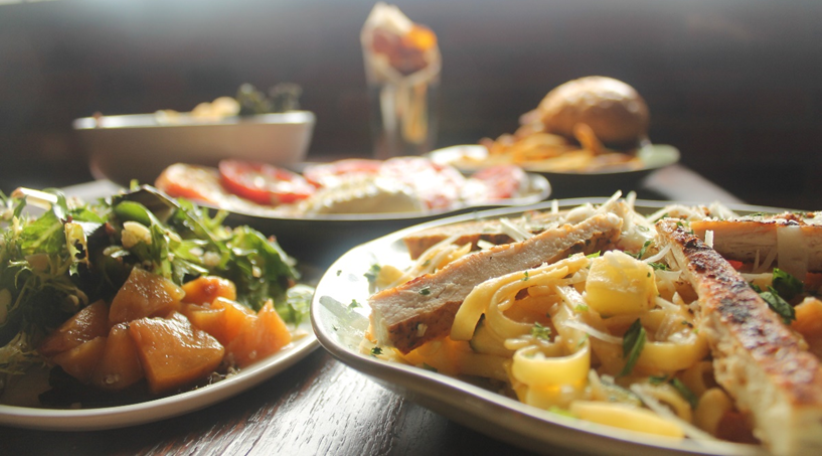 Locally-owned restaurants are dedicated to serving the community by using local produce, meats, and other products to create delicious and unique meals for you to enjoy. Great for a night on the town or a gathering with friends and family, these restaurants often change their menu based on the seasons which entices you to visit again.
---
Crafted—The Art of the Taco
www.eatatcrafted.com
219-A South Elm Street Greensboro, NC 27401 336-273-0030

Embur Restaurant
www.emburfirefusion.com
107 Smyres Place
Greensboro, NC 27403
336-541-8442
Green Valley Grill
http://www.greenvalleygrill.com
gvgrill@qwrh.com
622 Green Valley Road, Greensboro, NC 27408
336-854-2015
Green Valley Grill offers informally elegant fine dining with a focus on seasonal foods. Be sure to check out their website to get information on their latest cooking series classes.
Hop's Burger Bar
http://www.hopsburgerbar.com
2419 Spring Garden Street, Greensboro, NC 27403
336-235-2178
2138 Lawndale Drive, Greensboro, NC 27408
336-663-0537
Hop's offers a rotating selection of local and unique craft beer to pair with their inventive burgers. Be sure to try one of their delicious walls of fries!
Iron Hen Café
http://www.ironhen.com
info@ironhen.com
908 Cridland Road, Greensboro, NC 27408
336-617-7105
Iron Hen specializes in serving local, seasonal, and sustainable food daily. Once you fall in love with their food, be sure to cater your next event using their catering company, Fresh. Local. Good.
LaRue Elm
http://www.larueelm.com
info@larueelm.com
403 N. Elm St Greensboro, NC 27401
336-252-2253
Lindley Park Filling Station
http://www.lindleyfillingstation.com
2201 Walker Avenue, Greensboro NC 27403
336-272-2144
Lindley Park offers a wide selection of casual foods from salads to burgers to their unique sandwiches. Be sure to try their Fried Green Tomato sandwich that was listed on the Our State Magazine southern sandwich guide.
Lucky 32 Southern Kitchen
http://www.lucky32.com
westover@qwrh.com
1421 Westover Terrace, Greensboro, NC
336-370-0707
Lucky 32 has been serving locally sourced upscale Southern food since 1989. While you're there, grab a bottle of their famous Voodoo sauce to take home.
Melt Kitchen & Bar
http://www.meltkitchenandbar.com
meltgso@gmail.com
1941 New Garden Road, Greensboro 27410
336-763-5445
Melt is one of Greensboro's newest additions. Their casual atmosphere and their great selection of paninis, small plates, and salads is quickly making Melt a local favorite.
Moose Café
www.eatatthemoosecafe.com
2914 Sandy Ridge Road, Colfax, NC 27235
336-668-1125
The Moose Cafe is part of a small casual chain offering Southern-style comfort food made using locally grown veggies. The flagship location is in Asheville is the ultimate farm to table restaurant and more locations are popping up around North Carolina.
Print-Works Bistro
http://www.printworksbistro.com
printworksbistro@qwrh.com
702 Green Valley Road, Greensboro, NC 27408
336-379-0699
Print-Works Bistro uses fresh, local ingredients used to craft traditional and modern comfort foods. This restaurant often offers cooking classes to give their valued customers ideas on how to prepare local foods.
Saint Jacques French Restaurant at Burke Manor Inn
http://burkemanor.com
303 Burke Street, Gibsonville, NC 27249
336-449-6266
Saint Jacques French Restaurant serves seasonally-inspired dinner Thursdays, Fridays, and Saturdays by reservation only.
Scrambled Southern Diner
http://www.scrambledgreensboro.com/
2417 Spring Garden Street, Greensboro, NC 27403
336-285-6590
Scrambled is a breakfast and lunch destination that serves a menu of breakfast items all day. At night, Josephine's will be available for wine dinners and private events, and is continuing catering  with food sourced from our local farmers.
Southern Lights Bistro
http://www.southernlightsbistro.com
info@southernlightsbistro.com
2415 A Lawndale Drive, Greensboro, NC 27408
336-379–9414
Southern Lights Bistro is an award-winning, four-star restaurant that gives a pan-cultural nod to the modern American menu with a focus on local ingredients. Chef John invites custom orders to accommodate dietary restrictions including gluten free options.
Southern Roots Restaurant & Catering
http://www.southernrootsfoods.com
119 E. Main Street, Jamestown, NC 27282
336-882-5570
Southern Roots features an eclectic American menu with Southern twists served in a laid-back but cheerful bistro space. Check out their website for information on their extensive catering menu and Facebook page for when they have live music.
Sticks & Stones
http://www.sticksandstonesclayoven.com
2200 Walker Avenue, Greensboro, NC 27403
336-275-0220
Sticks&Stones offers wood-fired pizza made from in-house dough using locally milled, organic flour. Their whimsical tree house inspired dining room and patio also serves as a great place to sample a beer from their wide selection.
Table 16
https://www.facebook.com/table16/
600 S. Elm Street Greensboro, NC 27406
336.279.8525
contact@table16restaurant.com
At Table 16, our blueprint of globally influenced New World Cuisine, embodies a style of food that is strong, unique, and indicative of the bold flavors of the New World coupled with the refined and elegant traditions of the Old World.
Undercurrent
http://undercurrentrestaurant.com
327 Battleground Avenue, Greensboro, NC 27401
336-370-1266
Undercurrent has been serving locally sourced and sustainable New American cuisine with classical French techniques for over 16 years. Be sure to check out their website for their calendar of events including wine tastings and specialty dinners.