Kitchen Connects GSO
Kitchen Connect GSO Now Accepting Applications for Spring 2018
"Growing Local Business Entrepreneurs"
Greensboro, NC – Kitchen Connects GSO, a business incubator program for prepared food entrepreneurs, is now accepting applications for the Spring 2018 session. The program is a collaborative effort between Greensboro Farmers Curb Market, Out of the Garden Project and the Guilford County Cooperative Extension, in partnership with the City of Greensboro. This program is made possible through a USDA Local Food Promotions (LFPP) grant.
Kitchen Connect GSO brings together Greensboro's first shared-use kitchens with food safety certification and small business training classes to create a unique local food incubator program. The program's goal is to provide opportunities for new value-added product startups to begin or expand their operations and increase the public's access to and consumption of local foods.
"Kitchen Connects GSO really connects the dots for local food growth in the Triad," said Lee Mortensen, Executive Director and Market Manager at Greensboro Farmers Curb Market, a program partner. "By providing the participants with tools, resources, and networks that frequently stall smaller food business progress, we help pave the way for more diverse product development and production in the local foods economy."
Participants will receive reduced-cost training in Safe Plates, a food safety and handling certification program, and basic small business classes in starting a food business finance, marketing and merchandising. Following the educational courses, participants will be prepared to operate in a shared-use kitchen. The Market will offer Kitchen Connects GSO designated tables for products for guest vending to test products for sale. Eligible participants may also graduate to R.E.A.L Entrepreneurship training with East Greensboro NOW at the conclusion of the program, growing their business by developing a comprehensive business plan.
Applicants with ideas and recipes for small batch and artisan crafted, prepared foods using locally-sourced ingredients are encouraged to apply through the website: www.kitchenconnectsgso.com. Applications are due by April 23, 2017. Scholarships are available based on income. The links for each shared-use kitchen can be found through links on the website.
In addition to Kitchen Connects GSO program, the 3-year LFPP grant allows the Market to establish a 900 square foot, well-equipped demonstration kitchen in the Harvest Learning Café, a major expansion to the mission to connect farmers, food and friends. Local chefs and community members are invited present healthy recipes, using local market-sourced ingredients, for public demonstrations and tastings. Weekly local food cooking and tasting events can be found on the market website at www.gsofarmersmarket.org.
Kitchen Connects GSO 2017 by the numbers:
41 applications received during the first year of a three-year pilot
26 applicants selected to participate in the program
8 participants accepted to vend at the Greensboro Farmers Curb Market
9 participants actively engaged using certified community kitchens at Out of the Garden Project and the Guilford County Cooperative Extension
3 participants expanding their business plans through East Greensboro NOW and ongoing mentoring programs
3 participants expanding to multiple retail market locations
About the Market
Greensboro Farmers Market, Inc. (GFM) operates the Greensboro Farmers Curb Market on behalf of the City of Greensboro. GFM is a 501c3 nonprofit. GFM provides greater Greensboro with opportunities to purchase and learn about local food in a friendly and diverse setting. GFM encourages and supports the growth of local foods and artisan goods businesses to improve greater Greensboro's economy, support better health through healthy eating and build social and community connections.
Location and Hours of Operation
The Greensboro Farmers Curb Market, 501 Yanceyville Street, is located at the corner of Lindsey Street and Yanceyville Street across from the War Memorial Stadium and operates year round on Saturdays 7 a.m. to 12 p.m. and seasonally on Wednesday 8 a.m.- 1 p.m. (April 19 – December 20). The Market is an indoor facility with free admission, WiFi, and plenty of free parking as well as an ATM on site. Visitwww.GSOfarmersmarket.org for more information.
Contact: 
Angie Blomer, Local Business Coordinator
Lee Mortensen, Executive Director
__________________________________________________________________________
Kitchen Connects GSO would like to invite you to join us at one of our  informational open houses. Here you will be able to get your questions answered about our Shared Use Kitchens and how to use them as well as  find out how you can grow your own local business.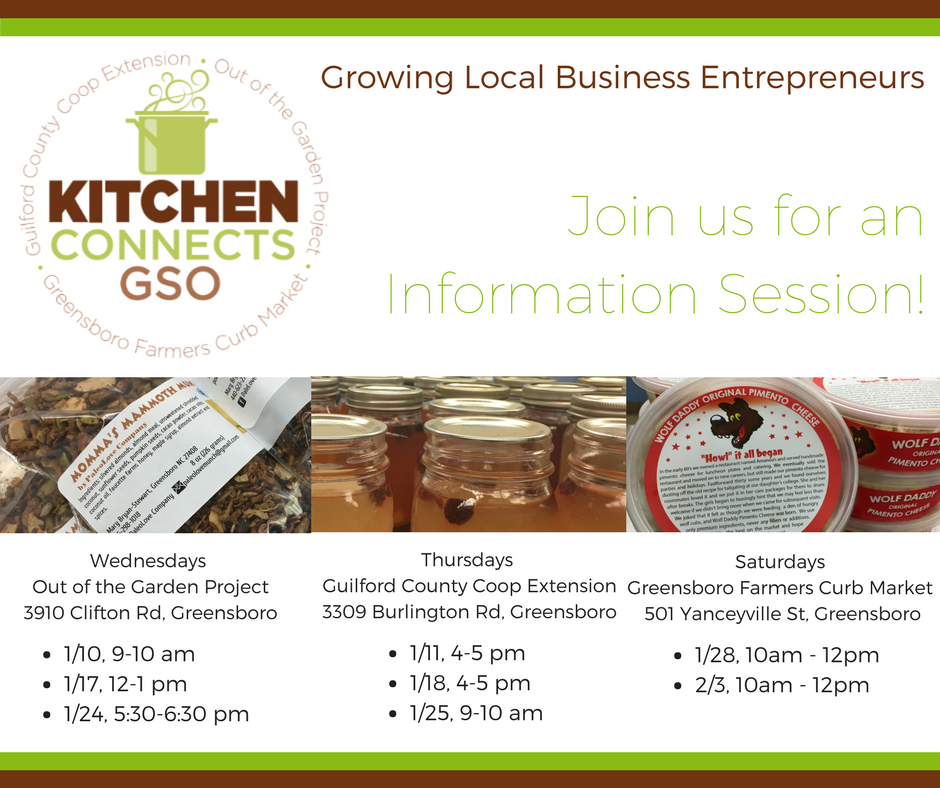 Kitchen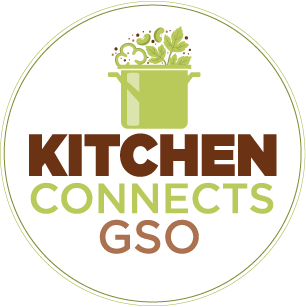 Connects GSO is an incubator program for local food business entrepreneurs, a partnership of Greensboro Farmers Curb Market, Out of the Garden Project and Guilford County Cooperative Extension, made possible by a USDA Local Food Promotion Grant contracted through the City of Greensboro.
Participants of the Kitchen Connects GSO program will receive food safety training, small business classes in merchandising, marketing and basic small business finance, access to shared use commercial kitchens, mentoring and a specially designated farmers market table to sell products for a pilot phase.
Many people have recipes and ideas for local food products that are valuable; but often times, the means and information to start the business can be a mountain of daunting tasks. There is much more to starting a small food business than meets the eye – state and federal food safety laws, label requirements, sourcing ingredients, marketing and a place to sell are among the challenges.
Cost is $100 for Safe Plate Certification
To apply and for more information visit https://www.kitchenconnectsgso.com/
Was the information on this page helpful?