Introduction
Find this page at:
go.ncsu.edu/readext?361577
TABLE OF CONTENTS
Guilford County has over half a million residents contributing to its local food system. Annually, residents of Guilford County spend 1.4 billion dollars on food. Our goal, through education, is to encourage residents to spend 10% of their food budget on locally produced goods.
---
However, there are approximately 24 food deserts in Guilford County. The US    Department of Agriculture defines food deserts as residential areas where at least one-third of the residents live more than a mile away from a grocery store, or communities that have a poverty rate higher than 20%. Residents in these areas struggle to have fresh, healthy food on a regular basis.
In 2017 the Food Research and Action Center ranked the Greensboro/High Point metropolitan area as 14th in the United States for food hardship, up from the previous ranking of 9th. There is still a lot of room for improvement.
To build a sustainable food system that is economically viable, environmentally and socially sound we need to invest in Guilford County and our local food producers. A  local food system involves more than just farms and markets, it is a complex structure of relationships and processes required in feeding members of the community. Growing,  harvesting, processing, packaging, distributing, marketing, consuming, disposing and recycling all are various parts of our local food system.
The Importance of Local Foods
Farmers earn ten to fourteen cents of every dollar you spend at the super market. The price that you pay mainly goes towards shipping, handling and marketing of the produce. Removing various middle-men gives consumers fresher, healthier produce for the same price while allowing farmers to earn upwards of eighty-five cents of every dollar.
Supporting a local food system creates new job opportunities and keeps existing farms economically viable. If consumers in Guilford County spent 10% of their food budget on local food, it would provide approximately $140 million a year in our local economy.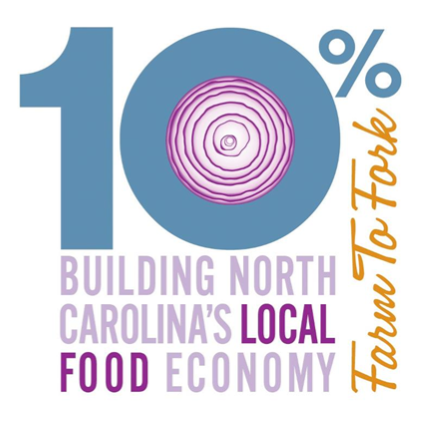 NC State University and the Center for Environmental Farming Systems (CEFS) created the NC 10% campaign to encourage consumers to commit 10 percent of  their existing food dollars to support local food producers, related businesses and communities in North Carolina.
Consumers can pledge online and track what they purchase each week.
Visit https://www.nc10percent.com/