CSA Programs
Find this page at:
go.ncsu.edu/readext?361735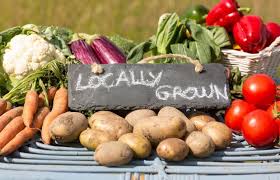 Community Supported Agriculture programs (CSAs) are share opportunities for farmers to offer to the public. Consumers can purchase a "share" at the beginning of the growing season as a way of pre-paying for their produce. As the season progresses, community members receive their portion of the produce. This helps farmers gain financial support at the beginning of the season and an opportunity to know their customers. Consumers benefit by receiving the freshest local produce available.
---
Asgard Farm
2101 Cullen Road, Gibsonville, NC
336-266-8113
Asgard Farm is happy to be able to offer pastured, non-GMO, soy-free poultry via CSA shares.
Emmaus Farms
https://www.facebook.com/pages/Emmaus-Farm/311341835551002
emmausfarm@gmail.com
3829 Vernon Lane, Snow Camp, NC
336-483-1231
Emmaus Farm is a small farm located in south west Alamance county. Our focus is growing small grains, dry beans and garden vegetables using sustainable practices.
Farlow Farm
https://www.facebook.com/pages/Farlow-Farm/447764951969605
A family farm offering a CSA program and selling organic produce at  Greensboro Farmer's Curb Market .
Faucette Farms
http://faucettefarms.com
7566 Friendship Church Road, Browns Summit, NC 27214
336-669-5083
Faucette Farms sells seasonal certified organic produce available at their farm and through CSA boxes. They have several drop off locations and each enrollment is for 12 weeks at a time.
Poe Family Farm
poefamilyfarm.com
poefamilyfarm@yahoo.com
Liberty, NC
336-308-6337 or 336-588-5042
PTB FARM
http://www.ptbfarm.com
Reidsville, NC 27230
336-706-8612
ptbfarm@gmail.com
PTB Farm grows quality vegetables, cut flowers, fruits, pork, and lamb. Contact them for information regarding their on-farm meat sales, coop program, and bulk meat sales.
Sheraton Park Farms
200 East Sheraton Park Road
Greensboro, NC 27406
336-957-0020
The Produce Box
http://www.theproducebox.com
Ashton Blackman:ashton.blackman@theproducebox.com
900 Withers Road, Raleigh, NC 27603
919-904-4722
WeatherHand Farm
www.facebook.com/Weatherhand-Farm-220412741333789/
Pleasant Garden, NC