New Fermentation Workshop Offered
Maybe you've heard about it on the news, read about it in a magazine or attended a dinner party where it was served…and maybe it made you a little nervous.
We're talking about home-fermented foods. The practice of fermenting food and drinks has been around for thousands of years, but has just recently resurfaced as trendy in the United States.
Join us for this two-day hands-on workshop* where we will cover safe methods of fermentation including sauerkraut, vegetables, kimchi, yogurt, and kombucha. Participants will also make kimchi and yogurt to take home.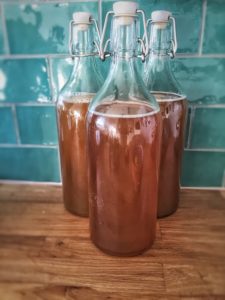 When: Thursday, October 24, 2019, & Thursday, November 14, 2019
Where: N.C. Cooperative Extension, Guilford County Center, 3309 Burlington Rd., Greensboro
Time: 5:30–7:30 p.m. each day
Cost: $25 (please make checks payable to Guilford County – cash not accepted)
Questions? Please call (336) 641-2412
Registration and payment are due by October 18.
*Limited to ten participants.