76th Greensboro District Junior Dairy Show July 19th & 20th
76th Greensboro District Junior Dairy Show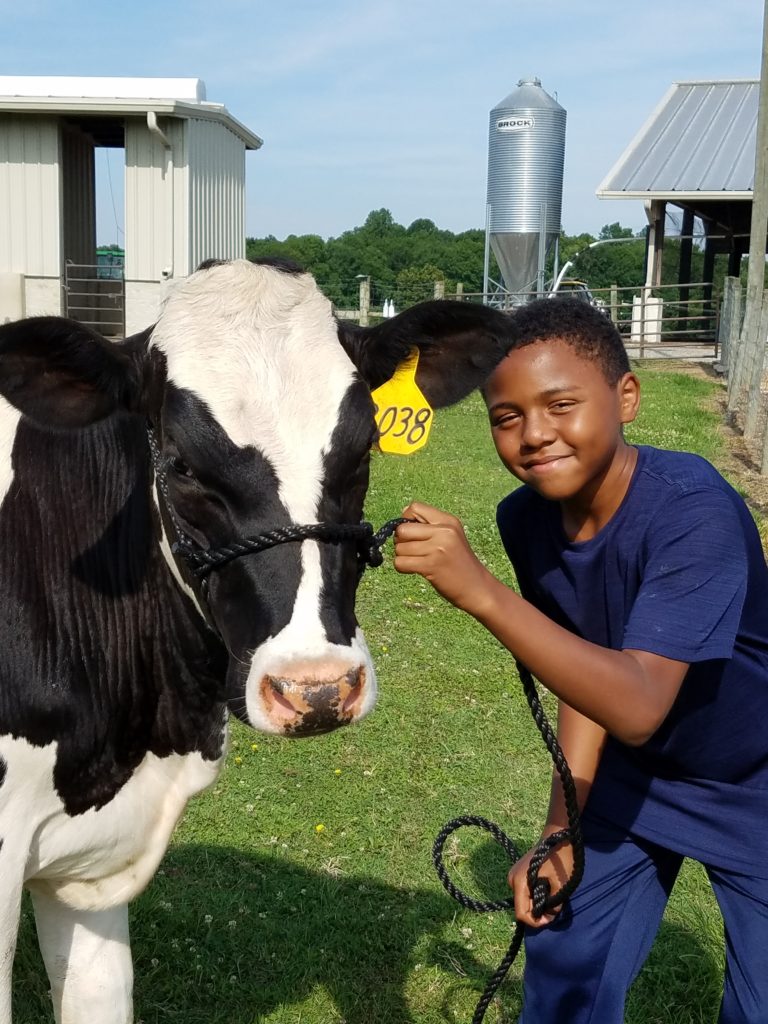 This year we will celebrate 76 years of Kids and Cows at the Greensboro District Junior Dairy Show!
The show is July 19th and 20th at the Guilford County Extension Center, 3309 Burlington Road in Greensboro and will begin at 10 a.m. both days.
The big old "Guernsey Gold" gambrel-roofed barn built in the 1930's comes to life the end of July each year as 4-Hers from a 6-county area bring their cows to the city to show off all they have worked so hard to achieve. The participants showcase their project animals and all they have learned-by-doing in their 4-H projects at this intensive 2-day competition. The kids and their families spend months preparing the animals for show – starting with the enormous task of teaching their heifers to lead quietly and stand still positioned to show off their favorable dairy qualities. There is daily work of feeding and cleaning up after their animals and then the bathing and clipping and showmanship practice… all told, participants spend more than 100 hours preparing for such a competition. That doesn't leave much time for TV or trouble!!
That's the real beauty of this project – the responsibility gained, the family time, learning to think about and take care of something other than themselves – the kids who participate in the dairy youth program are learning very important life skills. The participants can bring as many as three animals each and represent the dairies in the six counties surrounding Guilford. Participation averages 45 youth and there have been years that we've had more than 100 cows in the barn! These kids are learning the value of community – 4-Hers, parents, siblings, neighbors and farmers – all working together so the kids have the opportunity to learn the importance of setting goals and working cooperatively within their family and community to achieve these goals.
The participants in this Extension dairy youth program activity spend months learning animal husbandry, fitting and showmanship, sportsmanship, the value of hard work, the details of food production. Even though these kids will not all go on to become dairy farmers, they will leave this program with a clear understanding and appreciation for farming and just what all goes into making sure we continue to have safe, nutritious and abundant food to feed our families. We would love to share this great bunch of kids and families with all of you – come out and see the show!!
Was the information on this page helpful?
This page can also be accessed from:
go.ncsu.edu/readext?469527